Departments
Electronics & Communication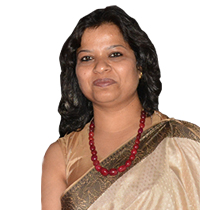 Dr. Shelly Garg
Dedicated, resourceful and innovative Educationist with rich academic and administrative experience of over 7 years from the grassroots, right up to the highest echelons of the Educational hierarchy. Accomplished trainer and a mentor with sound track record of creative scholastic achievements.
Electronics and Telecommunication are the state-or-art research areas, which are always growing and ever expanding. In the Age of Information and technology, Telecommunication engineering has a massive part in developing highly compact and efficient communication systems.
He received his B. Tech. in Electronics & Communication Engineering from G.L.A.I.T.M, Mathura, India in 2005, M. Tech. (Engineering Systems) from Dayalbagh Educational Institute, Agra, India in 2008 and Ph.D. from Department of Electrical Engineering, Faculty of Engineering, Dayalbagh Educational Institute, Agra, India. His research area includes Mobile Telecommunication Systems, Applications of Soft Computing techniques in Mobile Telecommunication Systems, and Optimization techniques etc.