Departments
APPLIED SCIENCE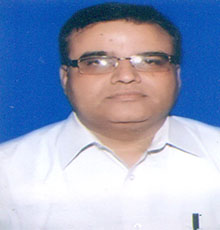 Dr. B.S Chauhan
DEAN (B.TECH FIRST YEAR)

The department is presently headed by Dr. B.S Chauhan, who is a highly qualified and experienced academician of repute capable to propel and guide the faculty members of the Department for the betterment of students & the college. He is a Ph.D from Dr. B.R.Ambedkar University, Agra in the field of Environmental Chemistry. He has over seventeen years of experience in teaching and research at various degree and engineering colleges of repute.
He has published many research papers in journals of repute. Dr. Chauhan is a life member of ISTE and member of several other scientific organizations. He is a member in the Editorial Board of International Journal of Theoretical and Applied Sciences.
Dr. Chauhan has authored several text-books pertaining to Chemistry, Biochemistry, Biotechnology and Environmental Science for undergraduate and postgraduate students of India and abroad. He has been very closely associated with Chaudhary Devi Lal University, Haryana for designing and preparing study material for M.Phil Courses in Chemistry.
Dr. Chauhan is the Founder member of PARYRAKSHA, an NGO, working for generating awareness among students regarding pollution and protection of environment at AGRA.
Dr. Chauhan encourages teacher's enrichment, innovations in teaching-learning methodologies, and has worked extensively on developing self-study system of learning and extension activities.